MG-03 Delta 3D Printer
About:
A direct extruder delta 3D Printer I designed around 05/2013. It was on display (and printing!) at:
New York World Maker Faire 2013 (collaboration with Windows 3D Print team)
Seattle Mini Maker Faire 2014 (collaboration with Microsoft Garage)
Original design (around May-Sep 2013)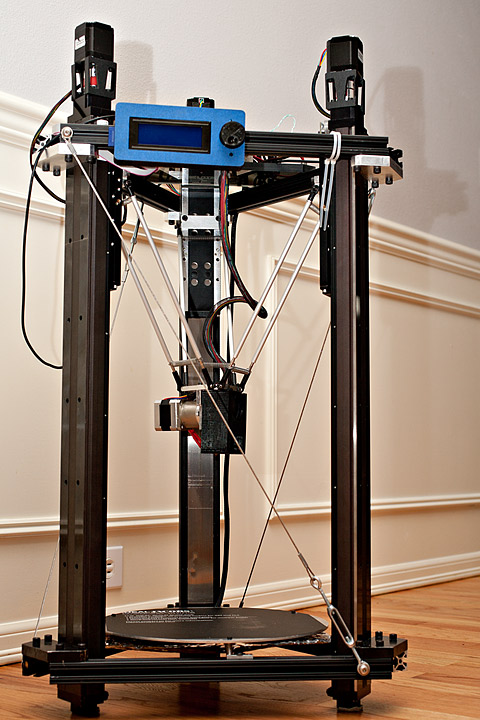 Design Concept
DIY: Simple, clean, reliable, extensible design
Delta Parallel Kinematics
Simple and elegant. Can be really (!) fast. This one is precise instead.
The Printed Object is fixed, only the print head moves in this design.
Can adjust size/speed/shape as needed (eg 22" for desk, 16" for transport) by changing cheap parts like extrusions and reconfiguring/recalibrating.
Firmware support readily available from Rostock/Kossel/etc printers: Repetier, Marlin (but these do run into limitations because of volume and resolution)
Frame: 8020 (T-Slot): 2 triangles (6 pieces of extrusion, 16"-22" long each with 60 degree custom designed mounting brackets and hardened/squared by cable tension.
Reasoning: cheap, rigid, readily available and allows fast prototyping (can mount or change positions of parts/accessories easily).
Delta Arms:

Ball joints: Traxxas 5347 Rod Ends with Hollow Balls Large Revo (12)
Current version: 6x aluminum tube, 10" long, length can be fine adjusted via turnbuckle (m4 opposite screws)
Previous version: 6x carbon fiber tube, 12" long

Overall dimensions: 20"x20"x36"
Print dimensions: 250mm radius by 240mm tall (480mm tall if using the entire length of the actuators)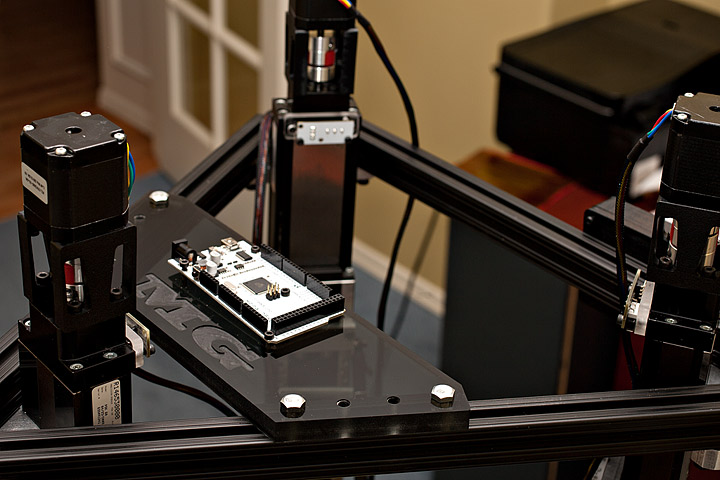 Design
All custom design (MG-03 Extruder). Concepts:
Attaches on top (for better Delta clearance). Still 50mm distance between centers and M4 screws.
Open space design (E-shaped): allow easy access inside to remove clogged filament without any disassembly
Common sense cooling: the transition tube connects directly into a large surface heatsink for improved cooling (as opposed to big block sandwiched between stepper and a full heatsink on Makerbot/QuBD - that is just heavy and does not actually disspate heat)
Very short transition zone (aluminum heater block is only 6mm tall): reduce filament drag
Motor plate can natively take 3 of the most common stepper motors (for different weight/strength): Nema 17, Nema 17 planetary Gear, Geared pankake steper
all structural parts are metal (it is heavy yes, complete assembly is 500g!)
Motor
NEMA 17 with planetary gearhead but the custom plate can take pancake geared stepper or plain NEMA17 Transition channel: Stainless steel M6 screw padded inside with PTFE. Hand-modified out of Vented Hex Socket Drive M6 screw ($3 in bulk). Working temperature up to 500F (limited by PTFE, can switch to all metal and go much higher but lose PLA printing capability).
Nozzle
Readily available M6 nozzles, hot swappable, currently using 0.4mm
Heating
40W heater cartridge. 100K thermistor for temperature control.
Heating Block
Custom shape aluminum block (designed for large contact/volume and short transition zone). Encased in glass tape (500F).
Cooling
Active (40mm fan w/ variable speed) or Passive (40x40 low-profile aluminum heatsink). When in active mode can take an additional cover that allows jet cooling around the nozzle. Materials: PLA, ABS, etc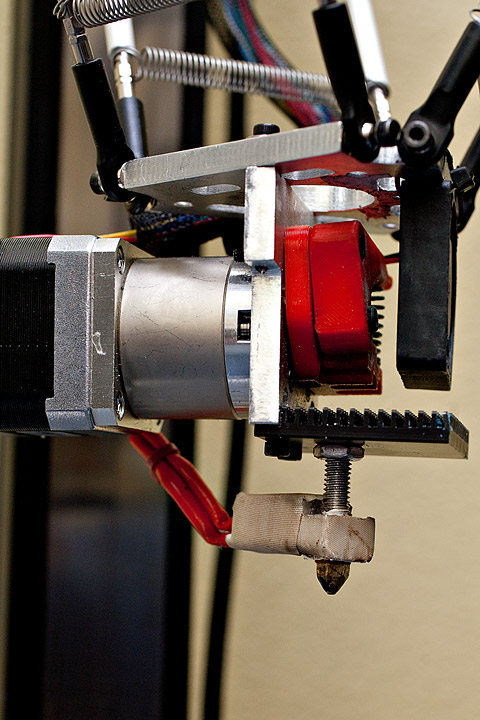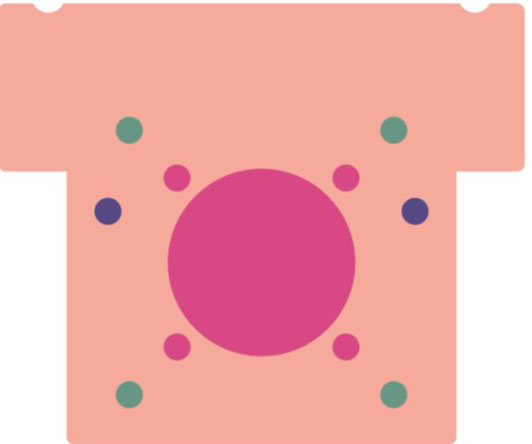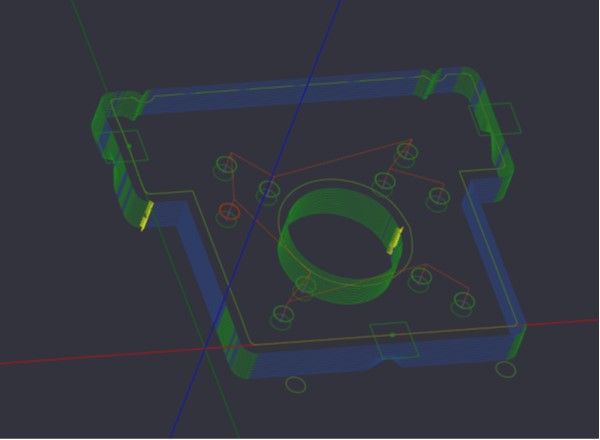 Axes
Industrial grade linear actuators (3x): No need to worry about hand-built or printed movements, no backlash, super strong, no need for tunning. It just works!
Current actuator Rexroth PSK60 with magnetic covers, but many other choices available (example THK LM). Very expensive new, but can be found used on eBay, accuracy is 7 microns.
Steppers
Driven by 75 oz. in NEMA 17 stepper motors (instead of typical servomotors). Motor mounting brackets are custom (CNC-ed), typically the actuators take NEMA23 servomotors or similar.
Couplers
Spider/Lovejoy type (better life than spiral couplers).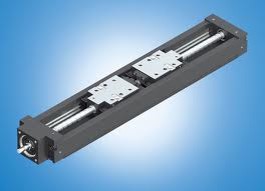 Image source: boschrexroth.com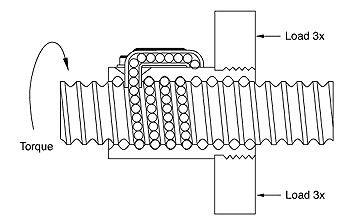 Image source: roton.com
Print Bed
Heated 8-layer, 12" aluminum disk diffuser. Topmost build surface options:
BuiltTak directly on the aluminum disk (works cold for PLA)
Blue tape directly on the aluminum disk - fast and cheap
Borosilicate glasss disk + kapton tape (8" wide)
Print material:
Can print ABS and PLA (Nylon, HIPS, PVA in testing).
Holders:
The printer holds a pair of 1Kg spools of filament inside on a hot-swap rod. Read more in the filament section. Variable spool holders (updated design of http://www.thingiverse.com/thing:80580).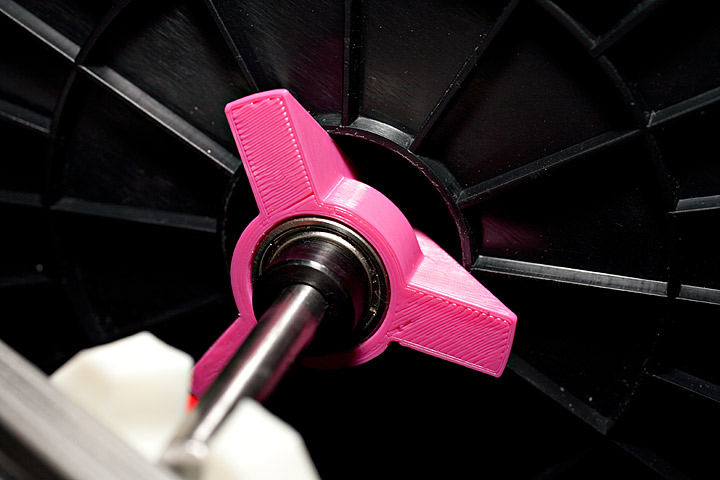 Electronics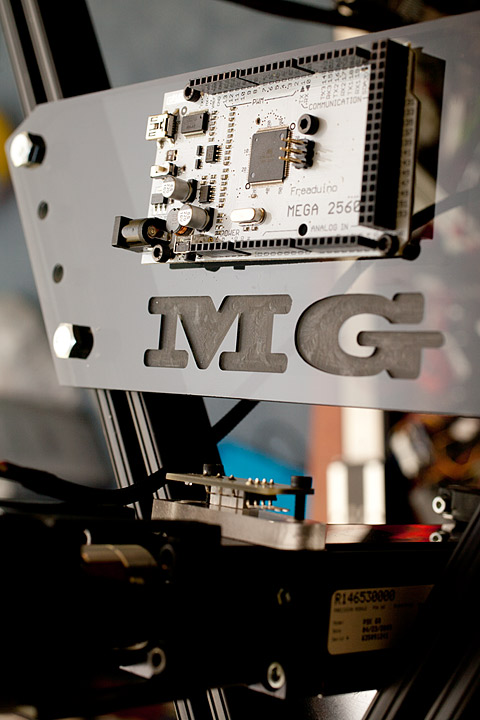 Hardware:
Everything run by a single Arduino and a few additional parts Ramps 1.4 shield LCD display Rotary knob (rotate + click control) SD Card reader A4988 stepper drivers
Firmware:
Currently running Repetier 0.91 but cannot use full microstepping because of dimensional overflows (also mostly runs with Marlin but there are integer overflow bugs that cause crashes)
Power Supply:
The printer uses 205W typical so standard PC PSU (500W) works but Xbox 360 PSU also works (unless overloaded).
Others:
Custom design RAMPS cooling bracket (printed). 1/2" acrylic base plate (CNC + engraving).
Other useless facts
Taking it apart for transpor takes 30 minutes. Assembly and calibration is a few hours (I've done it at the Maker Faire in NY with limited tools and a measuring gig)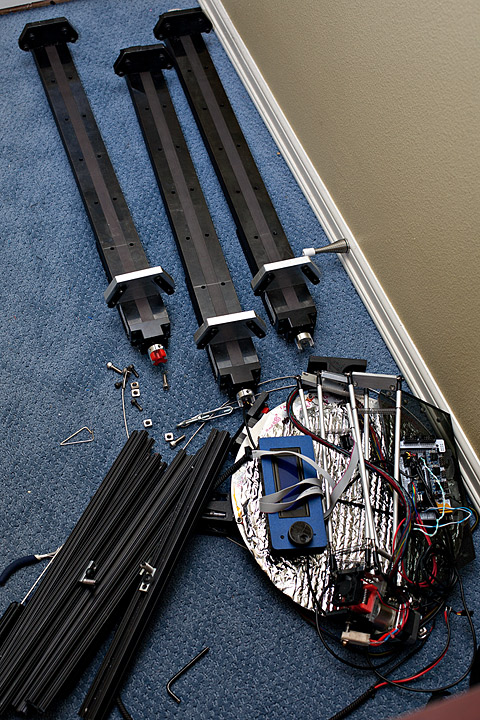 Additional pictures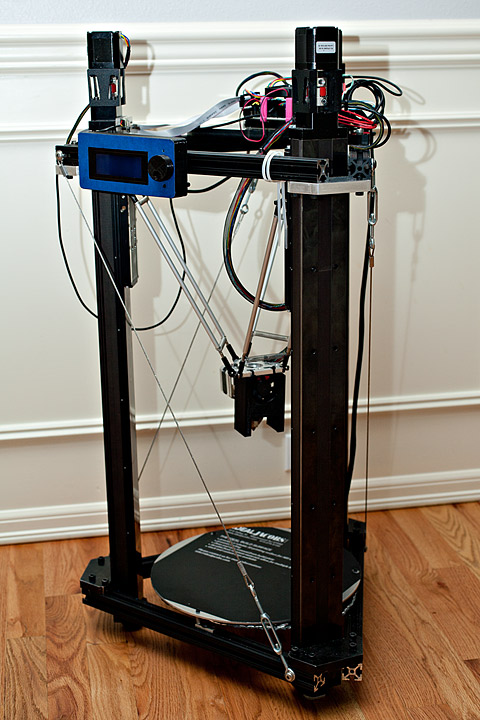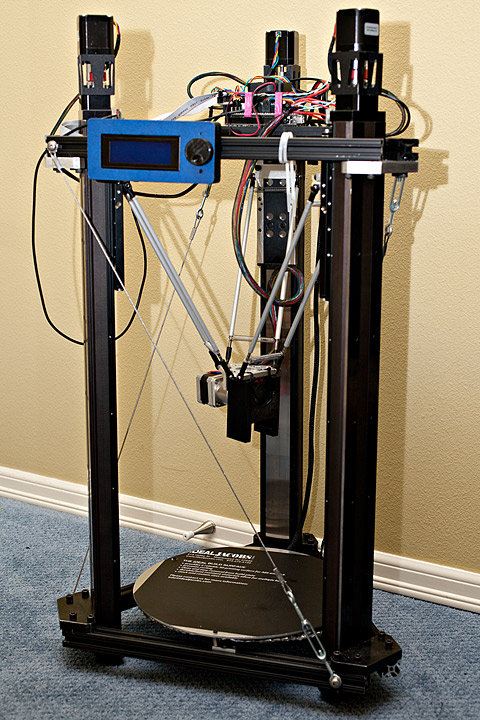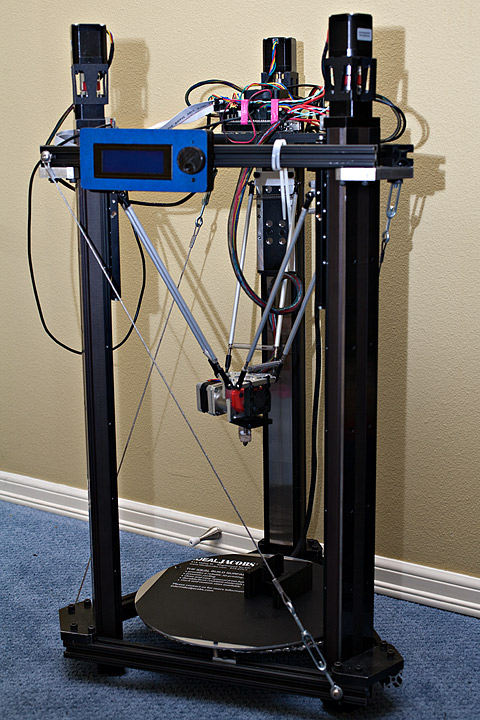 Upgrade 04/2014: Multi-purpose effector, Dremel, CNC Spindles

The effector was refined slighly and design published here: http://www.thingiverse.com/thing:338956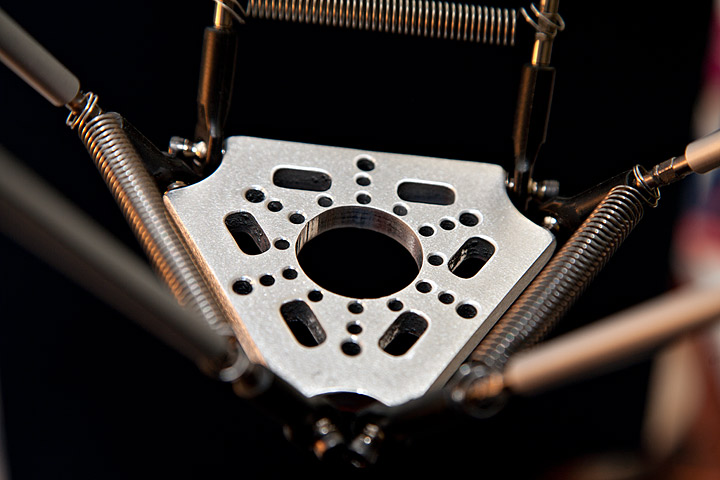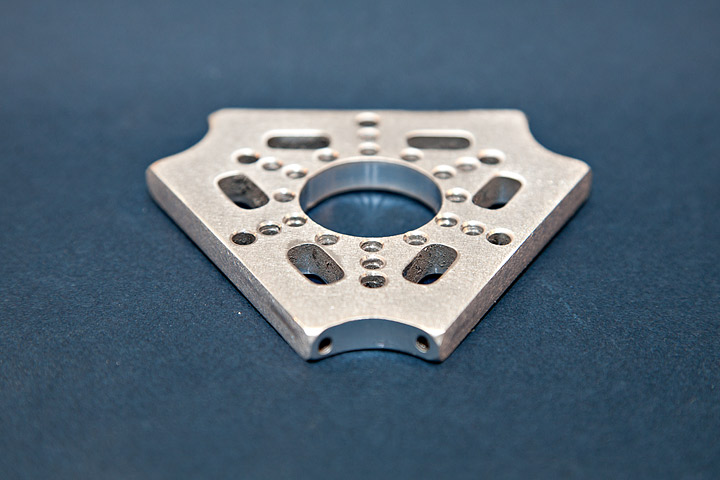 Also designed a couple brackets to mount a Dremel (http://www.thingiverse.com/thing:296799) or a CNC Spindle (http://www.thingiverse.com/thing:292655).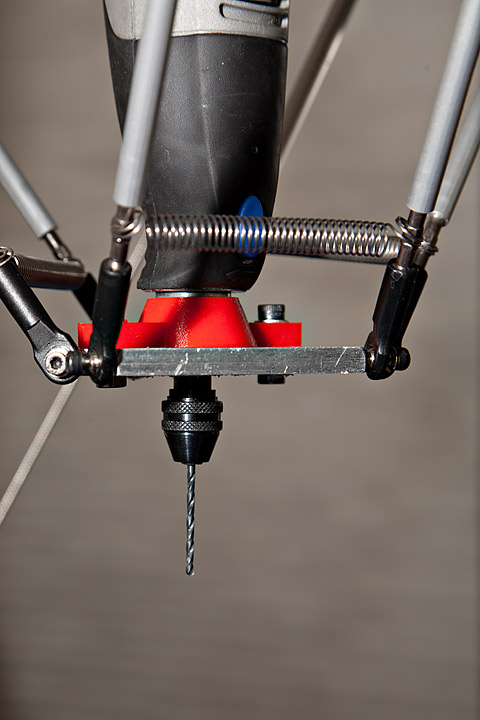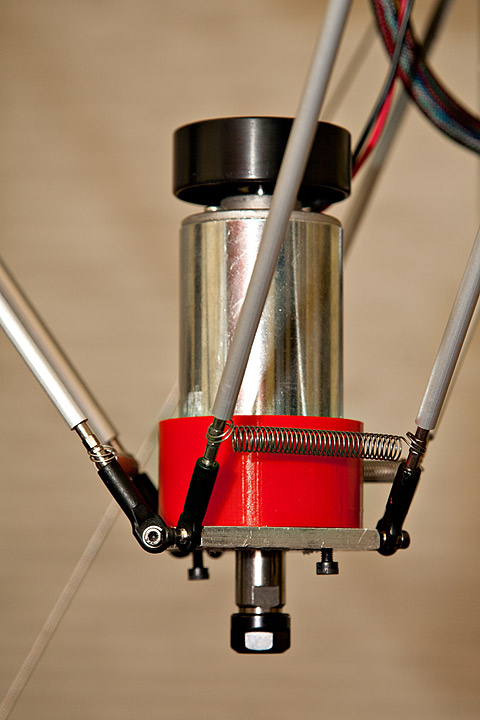 The print bed was replaced with a CNC bed - a huge disk of aluminum 1/2" thick with a pseudo-random M3 hole pattern to clamp parts or clamp the print bed above.
The frame was upgrade to 1020 profile (1"x2") for increased rigidity. The turnbuckles are still required.




Upgrade 12/2014: Snap-in spool holders

The previous spool holder was nice, but hard to change spools and could only fit two spools inside. This new design makes it easier, I can hang several spools on the printer, either inside or outside, clamps anywhere. Download the design here: http://www.thingiverse.com/thing:604530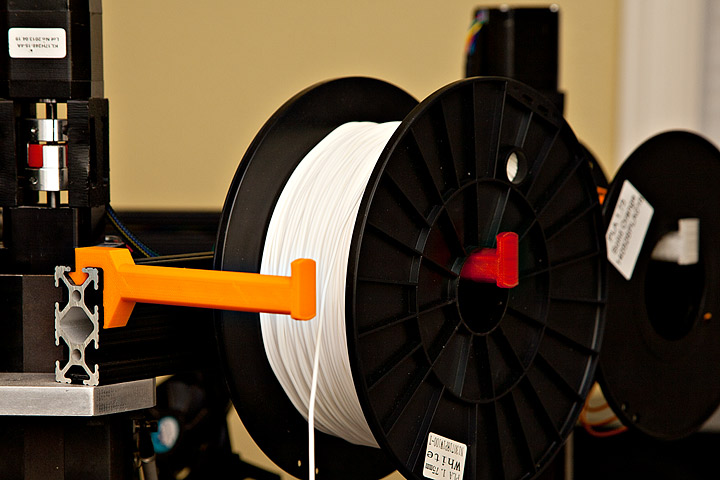 Upgrade 03/2016: MIC6 aluminum bed, Smoothie, Ethernet, 2.8" color touch screen

Borosilicate glass bed was a good idea in theory, in practice they crack too easily at this size and are slow to heat (esp if too thick). The new print bed is a 12" MIC6 1/4" aluminum disc that is reversible (one side is PEI the other is BuildTak currently). The quick-release for the bed is not yet working well so for now the print bed bolts on top of the base CNC bed.
The firmware is now Smoothieware and electronics are a MKS SBASE 1.2 board (which means CPU is finally sufficient to drive this printer + Ethernet). Also comes with a color touch screen which I don't yet have an eclosure for.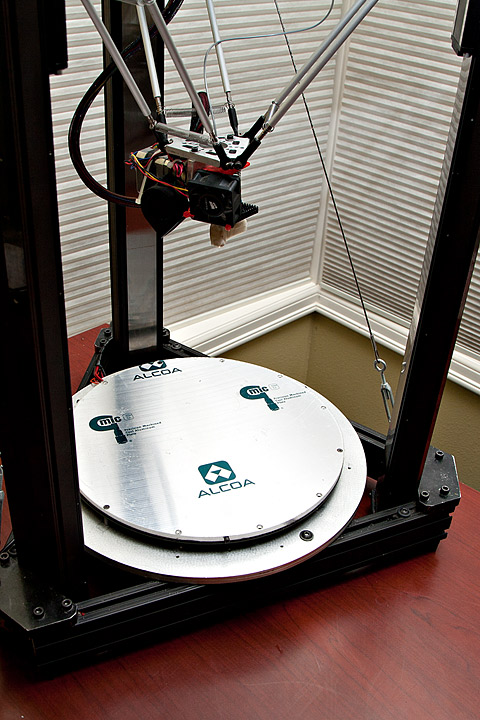 Contact
Email: mariusg@live.com
MGX @ Thingiverse: http://www.thingiverse.com/mgx/designs